Here's a selection of my comics from newest to oldest:
Skew Part Two
Skew Part One
I'm serializing my second graphic novel on the Study Group Comic Books site.
Skew continues the psychedelic adventures of the Miizzzard – The Miizzzard has taken a break from battling space sorcerers to assist the Space Yetis. But the finale of a years-long ritual goes awry when the Miizzz is chomped up by a hypermorph. Will the Miizzz be able to save the Space Yeti grove?
Part Three coming soon!
Vortex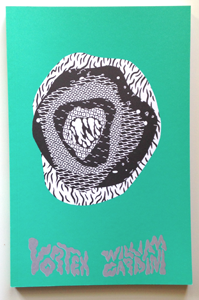 Vortex is my first graphic novel, published by Sparkplug Books via a Kickstarter campaign in 2014, and originally drawn from June 2011 to August 2013. Click the image above to go to a page with more info in my store.
"Fuel Quest"
This eight-page, seven-color comic is on the Study Group Comic Books site.
"Hawk"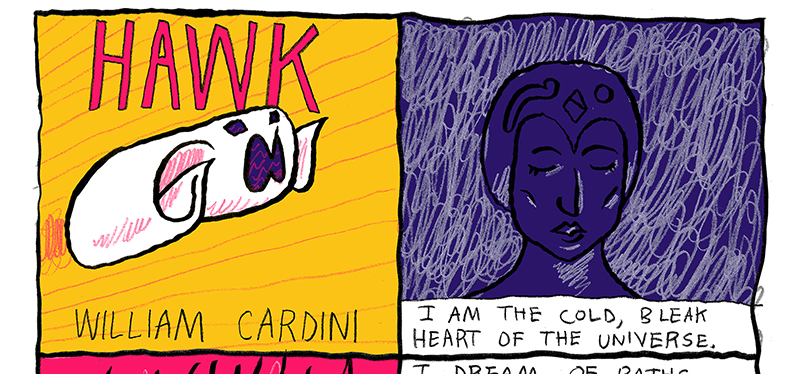 I drew this comic for Future Shock #1, an astro pysch SF anthology edited by Josh Burggraf. This first issue is now out of print.
Moon Queen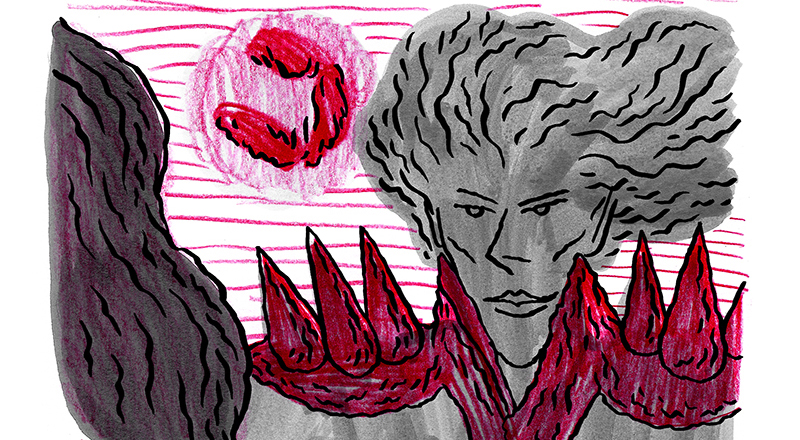 I drew this comic during the first session of Frank Santoro's Comics Correspondence Course.
"Glade and Mark in: Rocky Mountain Chomp"
I drew this comic for the ceremony program for Glade and I's wedding in January of 2011, and then I colored it and posted it online by itself in May of 2011.
"Assault on Yurg"
This comic was originally published as red/blue anaglyph 3D as one of four four-page comics in Math Fiction, alongside Pat Ausilio, Ian Harker, and Josh Burggraf. Math Fiction was published by Yeah Dude comics in December of 2010. I colored this version of the comic in April 2011.
Shaman Thunder
Josh Burggraf and I collaborated on this twelve-page comic. We brainstormed the plot, divided it up into a page-by-page outline, and then drew alternating pages. Then, we decided to reorder the first four pages so that it's two pages of me and then two pages of Josh. We like to be confusing. Shaman Thunder was originally published as a minicomic by the Gold County Paper Mill.
Froghead Hangover
I made this 12-page zine so that I'd have something to hand out to people at MoCCA 2009. It's based on a true story from when I was living by myself in Austin, TX.
Tranz
Inspired in part by Yuichi Yokoyama's inhuman, action-focused comics, I drew a series of short, one- to three-page strips focused on one transformative action throughout 2009.